This new Wild Ones series introduces us to the Wild Ones, Western PA chapter members, and how we are healing the Earth one yard at the time. Who and what are we? What does it mean to be a Wild One?
Growing (up) wild and free in a patch you know so well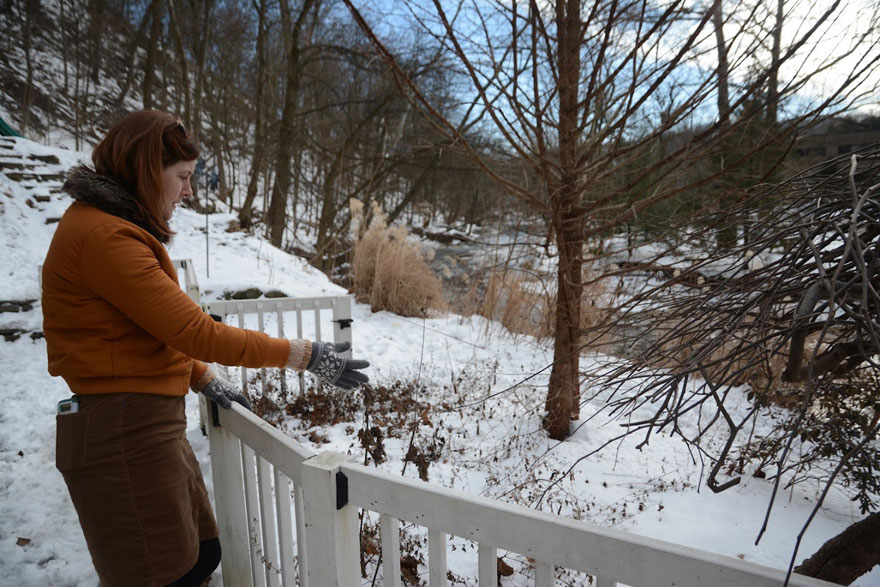 A small white wooden bridge crosses Pine Creek in Allison Park, half an hour north of Pittsburgh. On one side of the bridge, suburban light-scale industrial structures, office buildings, and an original stone farmhouse fill the land. On the other side of the bridge, a cozy, white house nests between the hill and the creek. The new guardians of the place, Laura Bartoletti and her daughters Miranda, 8, and Greta, 5, are playing outside on a sunny and wintery January weekend.
"We don't exactly litter here," shouts Miranda, running to greet the visitor. She skip-hops back to her sister Greta and Rainbow Magic Trick, the family cat, to continue their embodied creek and ice exploration.
In the early 1900s, two Irish brothers built a fishing cottage across the creek from an established apple orchard and farm. Laura and her girls moved into this place and named it Fox Den Pine Creek in 2017, in honor of their fox neighbors. The last apple tree was cut shortly before Laura and her family moved in. Before that, as one of the best fishing holes in the area, the First Peoples most certainly had a presence here. Arrowheads and other evidence of early Native American presence have been noted.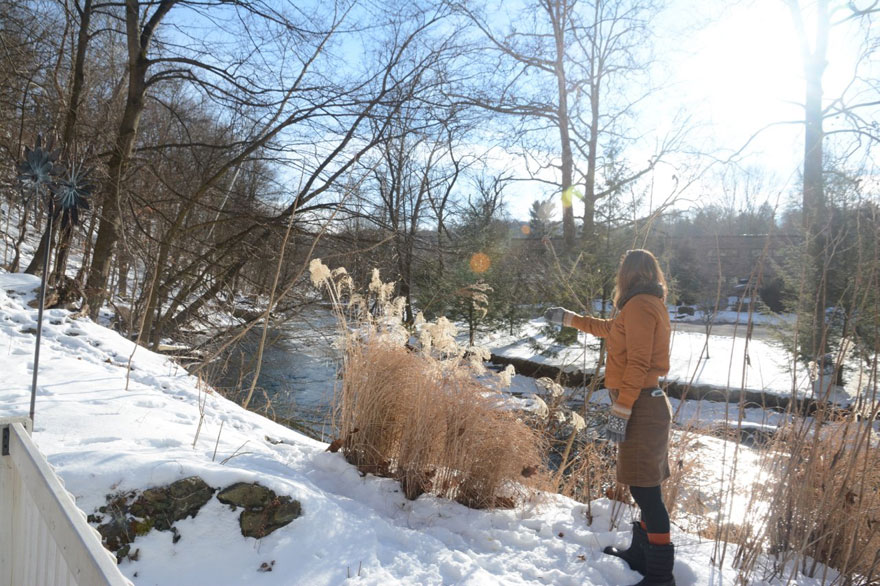 Wild ones by nature
Laura, originally from Allison Park herself, has a background in anthropology and archeology. As an outdoorsy person she ended up in Alaska for a few years. The experience of bearing witness to the melting of the glaciers changed her perspective on life.
"Seeing how rapidly and how far the glaciers withdrew within just a few years made me realize how connected we are. What we are doing here is important to others elsewhere. Everything we consume, throw away, and plant in our own yards affects the planet as a whole. We are all connected."
Laura moved back to Pittsburgh in 2010 and lived a few years in the city neighborhoods of Highland Park and Morningside. She soon started looking for a place outside of the city.
"I wanted my daughters to have an experience of living in a wild place."
She found a more efficient home, with a half an acre of land, in Allison Park and fell in love with the place.
Not long after that the little family moved in.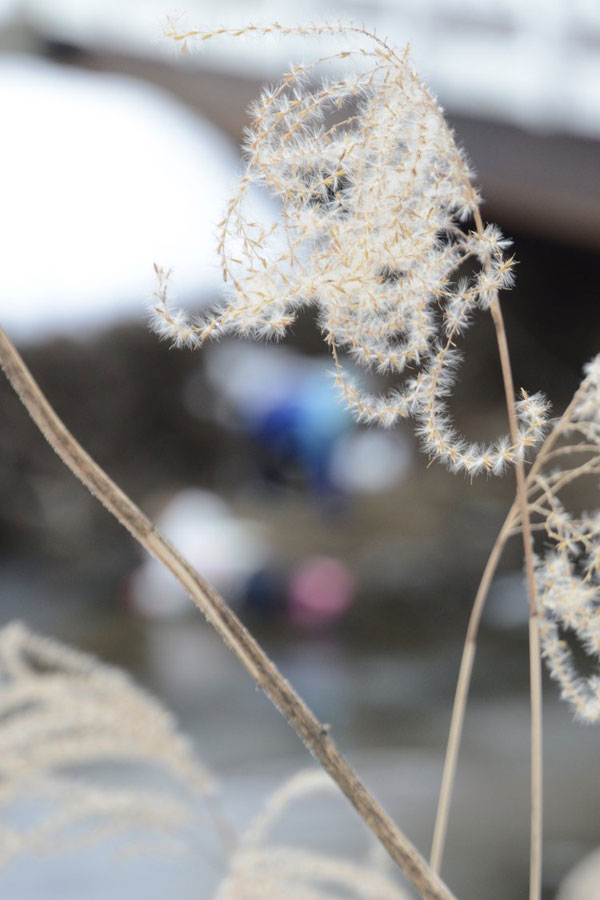 Becoming a Wild One
Laura brought some of the perennials – hostas, daisies, echinacea, alstroemerias– with her from her Morningside city garden thinking that whatever she plants will grow. This was not the case.
"The plants I brought with me were not coming back next season. Maybe it was the soil, or the run-off from the hillside. There were also a lot of plants that were already established here, both non-natives, such as tigerlilies, box bushes, highly invasive japanese stilt grass, as well as natives like jewelweed, pokeberry, dames rocket, wild geranium, woodland stonecrop, burdock, and beebalm. I started thinking that instead of buying new plants, I will try to nurture what is already growing here."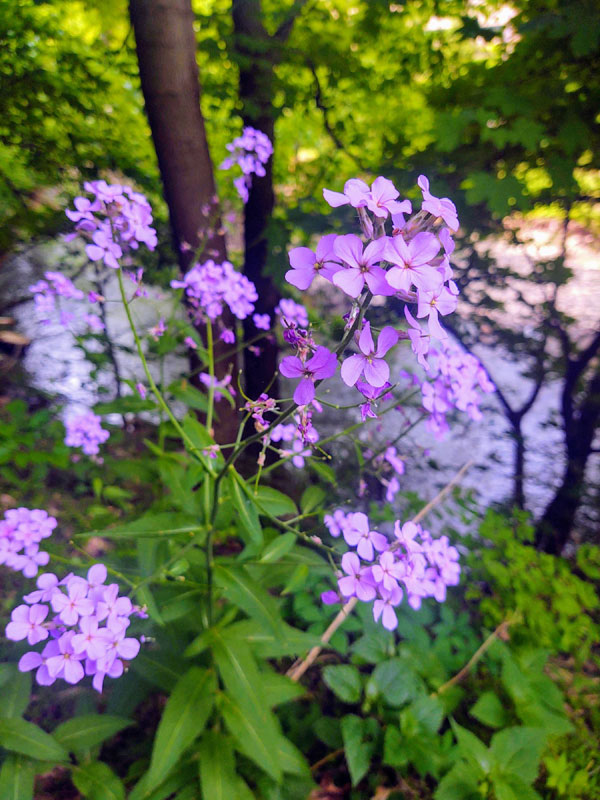 The first year of living wildly was intense. It felt like living in a jungle, Laura remembers.
"I had no idea how intense the yard work would be initially, but every year, now that I'm here, it gets easier and easier. I have a better idea of what grows here naturally. It's very rewarding, less work for me and also better for the environment."
After a couple of years of experimenting with what it means to be a wild one on her own, Laura heard about the Wild Ones through her current garden club and joined the group.
"When I first read about the Wild Ones mission to educate, establish more native gardens, and that they were looking for people to join as founding members, I signed up immediately. I was just so thrilled to find other people that were as passionate about restoring and maintaining natural landscapes as myself. I wanted to be able to share my experiences and also learn more from others."
Being a Wild One…
Standing on the bridge, Laura points out to the little patch of land between the creek and an office building across the bridge from her where she has an easement with the property owner. The patch came into her care heavily mulched and landscaped with non-native plants like pampas grass and English Ivy. Laura noticed how Pine Creek washed off the mulch every time it flooded. The pampas grasses withstood the water, but everything else including echinacea and shasta daisies, simply washed away.
She decided to try something different: She cut the grass and chopped the fallen leaves with an electric lawnmower and left everything on the ground.
"As time went on, I started seeing spiderwort, Queen Anne's lace, buttercups, forget-me-nots and maidenhair ferns growing where there was once only mulch and grass. The dragonflies, bees and butterflies started appearing in this area too."
"We have very little grass left, only a small portion for the dog to lay in. I let the native plants like butterfly bush and beebalm be. We get a lot of hummingbirds here. They seem to like having that stuff around."
We walk over the bridge and up the hill towards the girls' fairy garden. The land around the fairy garden grows Appalachian redbuds, perennial sunflowers, and black raspberries. Rainbow Magic Trick comes to rub himself on a young elderberry.
"Blacklace elderberries… they just went wild."
When the family moved in, there were only a few shoots of milkweed. Laura grew some milkweed in milk jugs and planted them alongside the wild ones. Milkweed is now filling the slope on its own, growing in a symbiotic relationship with morning glory. Laura points down towards the creek.
"There is a swampy area… I would like to try to grow swamp milkweed too… We have a lot of monarch butterflies and swallowtails here. There's something magical to have my children run around with butterflies."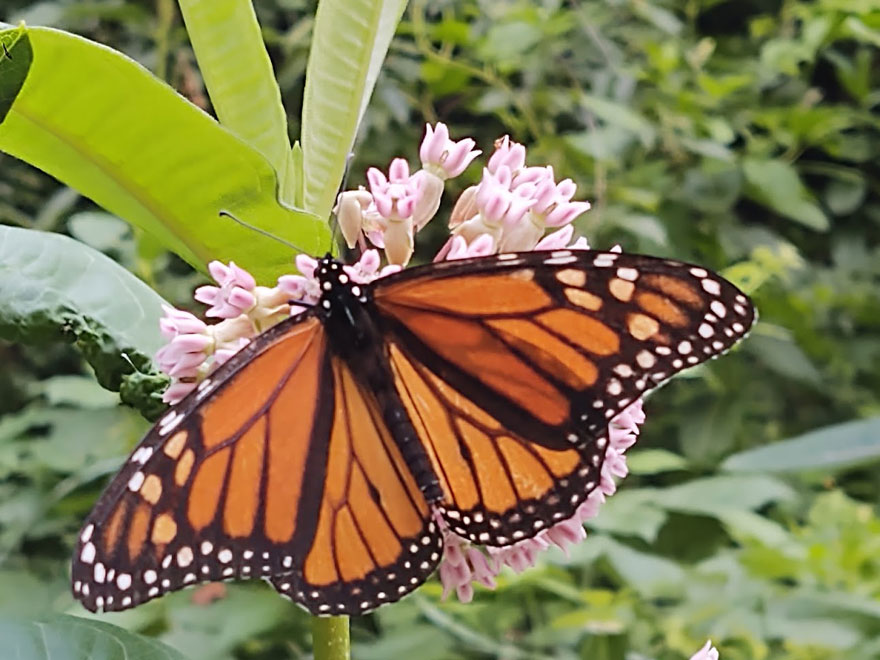 Sumac stretches tall and strong towards the sun from the creek bench. Sumac is an important critical winter food source for the wildlife – and good for people too. Laura has a Middle Eastern sumac recipe she is planning to try out. She would also like to make teas and tinctures with the abundant burdock, mint, and lemonbalm.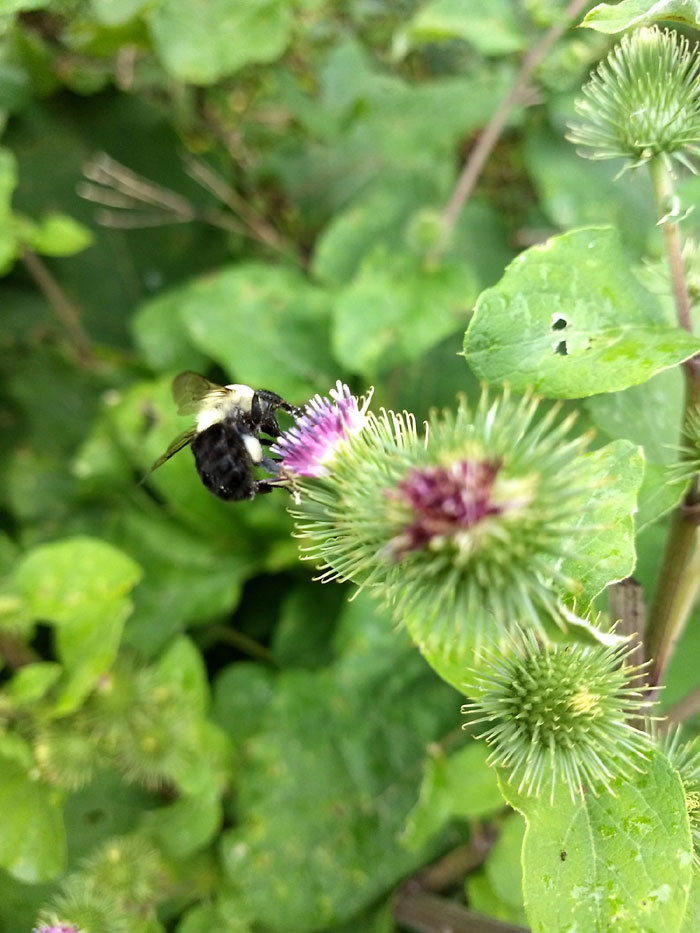 Freedom to be a Wild One
Laura does not have close-by neighbors and is therefore free to tend to the land without having to negotiate different views on gardening. She says that the sights of empty lawns and kids staying inside trouble her, and the sight of a nearby landscaping company blowing snow off the grass with leaf-blowers blows her mind. Yet, in her naturally friendly way, she does not make a big fuss about her way of gardening.
"I think if we just started doing this, trying this out, people might be inspired by what we do."
Laura is currently studying to become a master watershed steward with Penn State Extension, and recently got Fox Den Pine Creek officially registered as a watershed friendly property.
The Pine Creek Watershed stretches from Fox Chapel in the east to Franklin Park in the west, and from Pine-Richland in the north to Etna in the south. The land holds it all: heavy industrial, light industrial, commercial, and residential zones.
"There is a direct connection between gardening and watershed care. The importance of how we each tend to our land cannot be understated. Little changes can have a huge impact."
She does not use any chemicals or pesticides that will enter the water table and creek. She is also trying to restore the riparian buffer which not only supports local wildlife, but also helps with stormwater runoff.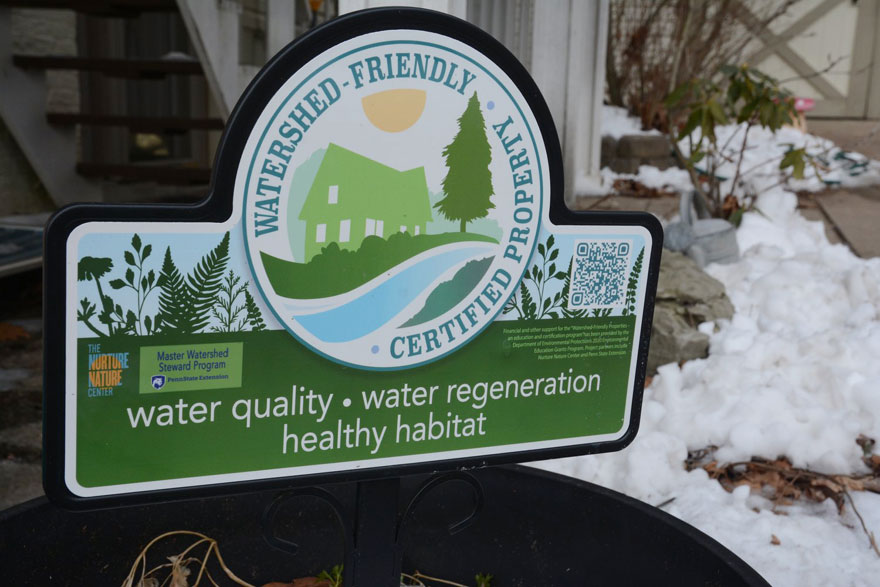 Laura says that many people tell her that it must be terrifying to raise children in our world. She points out that there's also lot of good things happening all the time.
"We are part of this huge movement of people… It's something truly special to grow up in a patch of land you know so well."
"We are all connected. It doesn't have to be perfect, but we must slow down and be conscious of how our everyday actions affect the world and nature around us."
---
You can Visit Kirsi Here – Original story published by Kirsi Jansa
https://kirsijansa.com/stories/wildones-wpa-1
Text © 2022 Kirsi Jansa. Photos © 2022 Laura Bartoletti and Kirsi Jansa.