---
What's New at The Wild Ones Western PA for 2023!
---
Please join us for this exciting event, Back to Roots, on May 20th!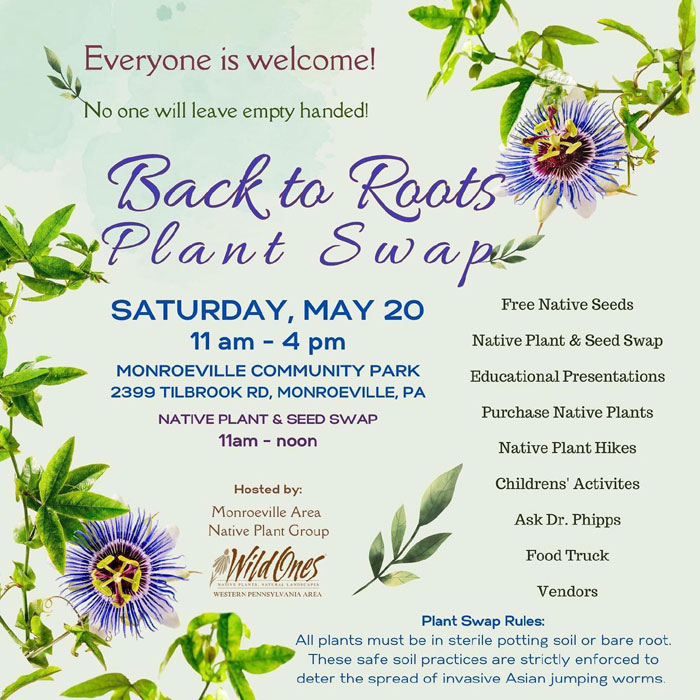 Come to Monroeville Community Park to participate in the plant and seed swap from 11am-12pm, with members of Wild Ones and Monroeville Native Plant Group. (bare roots or sterile potting soil only please) Purchase native plants from local nurseries, including Rust Belt Natives and Bonesetter Nursery.
From 12pm – 4pm, we will enjoy educational presentations from many local organizations including ASWP, Phipps, Pennsylvania Master Naturalist, Plant It Further, ALT, and many more. Participate in presentations about native plant species, mushrooms, native edibles, lawn conversion, permaculture, pollinators, and more! There will also be family-friendly activities and a nature hike provided by Pawpaw Pathways.
Eat delicious vegan food from Catatouille PGH, a non-profit food truck with a great cause!
Buy unique handmade items from local vendors, including natural dyed items, foraged floral decor, jewelry, soaps, native plant journals, crystals, gifts, and much more.
Please join us for what is sure to be a riveting event!
Please send any questions to [email protected].
---
Native Plant Symposium Presented on March 29th!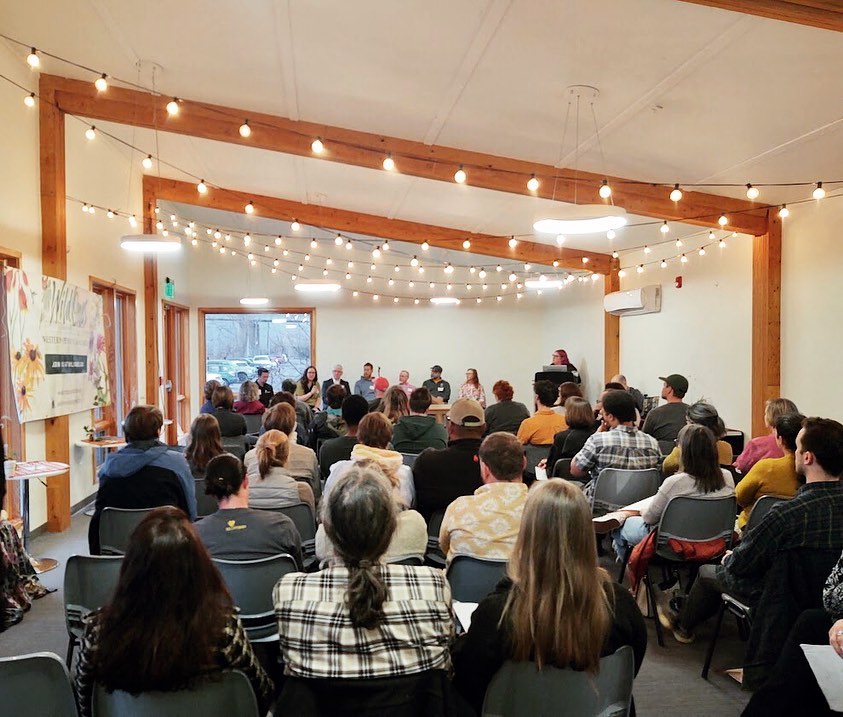 Our very 1st Native Plant Symposium was a success! We had a full house for this fantastic educational and social event.
We would like to thank our panelists:
Greg Kedzierski ~ Ernst Conservation Seed
Shelly Danko-Day ~ Pittsburgh Urban Ag & Food Policy Advisor
Chris Kubiak ~ Western Pennsylvania Audubon Society
Andrew Flynn ~ Mt. Lebanon Commissioner
Sean Brady ~ Hollow Oak Land Trust
Rose Flowers ~ UpStream Pittsburgh
Joe Stavish ~ Tree Pittsburgh
Tree Pittsburgh gets an extra thank you for providing such a lovely event space!
We enjoyed food from Pure Grub 412 and homemade baked goods. We especially enjoyed the drinks from A Few Bad Apples who donated cider to this event!
Thank you everyone who attended in person, and to anyone that tuned in online!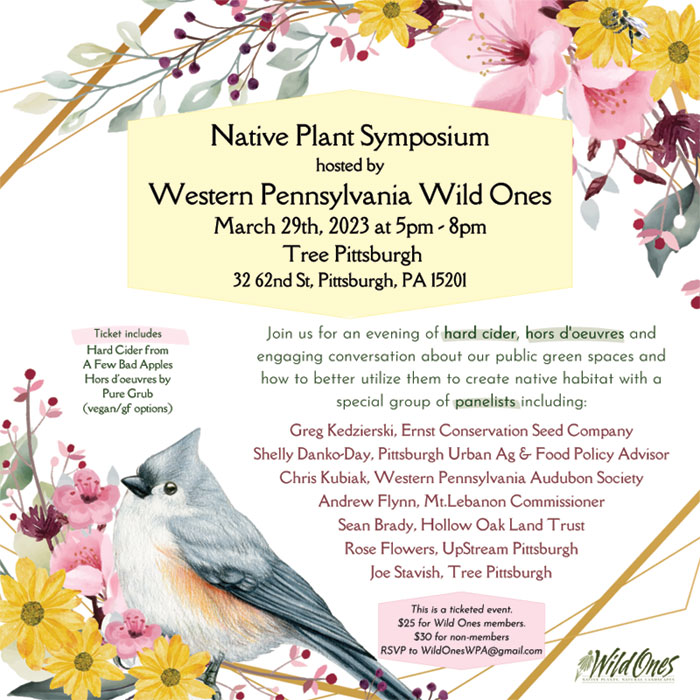 ---
All New as of January, 2023! Take a look and share the 10 NEW plans in the Wild Ones Native Garden Designs Programs!
https://nativegardendesigns.wildones.org/
If you are interested native plant garden design then check out these 19 helpful designs that will help with new ideas and new garden layouts.
---
See our recording of this awesome event if you missed it!
Join Us on Tuesday, January 24th at 7:00 pm to Hear a Talk by Gabrielle Marsden on How We Can Help the Zebra Swallowtail Butterfly!
Grab yourself a warm drink and snuggle in to hear Gabrielle Marsden share her mission of restoring the Zebra Swallowtail butterfly to the Pittsburgh area.

Gabrielle has been researching the Zebra Swallowtail, the PawPaw tree, and our ecoregion to figure out how to help bring back the critical habitat needed for the caterpillar/butterfly to our region.
Topic: Gabrielle Marsden Presentation on the Zebra Swallowtail Butterfly
Time: January 24, 2023 at 7:00 PM Eastern Time (US and Canada)
---
Visit Arcadia Natives on June 24th, 2023 and Receive a 20% Discount!
Arcadia Natives is hosting our Western PA Wild Ones Chapter on Saturday, June 24th from 9am to 5pm.
All Wild Ones members will receive 20% off of their native plant purchases during this event. We will have cool drinks, snacks and surprises. See you there!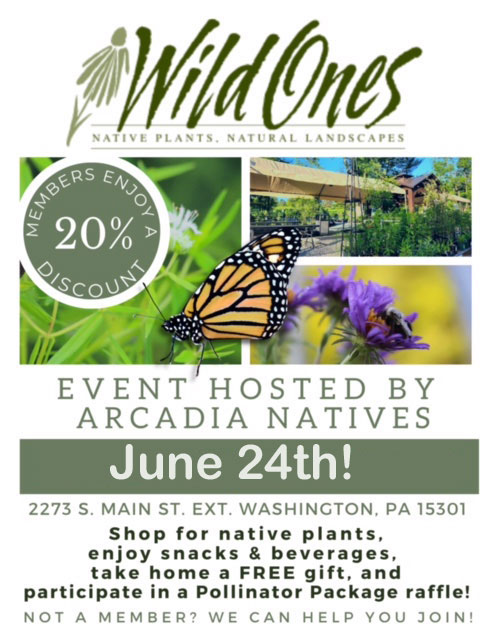 ---
Our June 11th 2022 Native Plant Sale was a Huge Success! We Are looking Forward to a Successful Sale in 2023! Stay Tuned for More Details!
New Native Plant Sale Coming on 9/9/2023!
Thanks to everyone that stopped by our native plant sale to learn more about native plants and also to purchase plants. Our sale was a huge success, and were very happy to get lots of native flowering plants out into area gardens!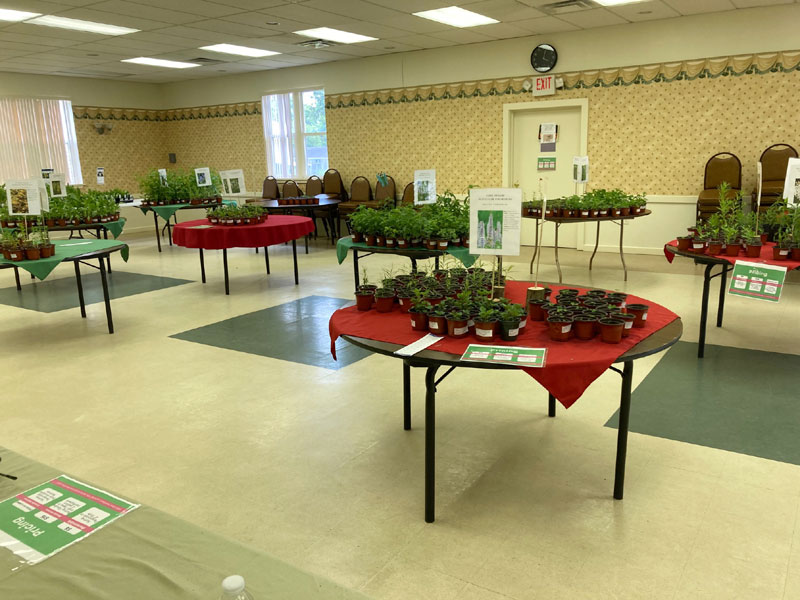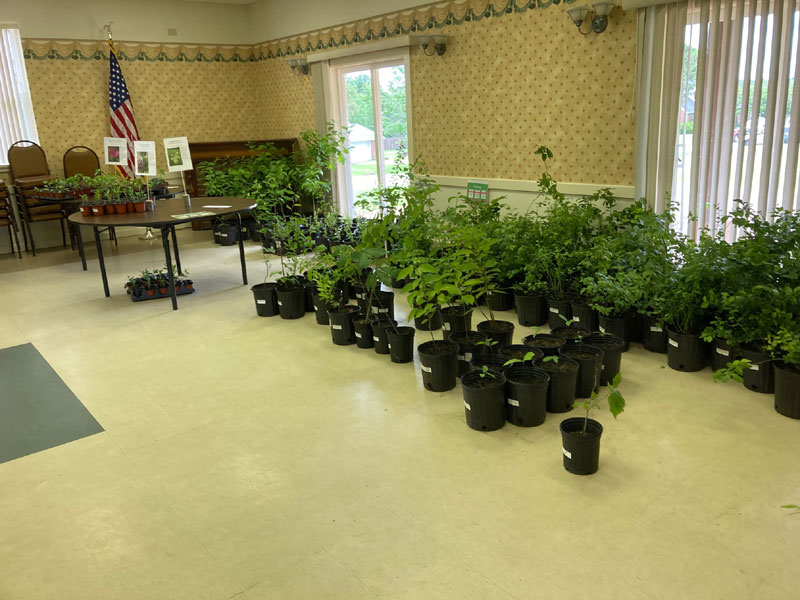 ---
Here is another great reason to become a member of the Wild Ones Western PA Chapter!
All Members Will Get 10% off at Arcadia Natives.
Just present your membership card and you will receive 10% off of your total order.